Limited Edition Sugerman Lake Michigan Blue Release.
Hey there, trendsetters and eyewear aficionados! We've got some exciting news to share with you today that's set to revolutionize the way you perceive luxury sunglasses. Allow us to introduce the Sugermans, a pinnacle of sophistication and style in the world of eyewear. These high-end Blublockers boast exquisite gold-plated detailing, precision German-made hinges, and the finesse of Italian lenses. And what's more, they've just taken on a new shade – the Lake Michigan Blue versions. So, let's dive into the world of Sugermans and experience unparalleled craftsmanship like never before.

The Sugermans: Where Luxury Meets Protection

The Sugermans are not your run-of-the-mill sunglasses. They are a statement of opulence, taste, and unrivaled craftsmanship. Each pair is meticulously designed to reflect the heights of luxury while offering the premium eye protection that Blublockers are renowned for. But these are more than just sunglasses; they're a symbol of your impeccable style and an investment in the health of your eyes.

Gold-Plated Detailing

If you have a penchant for the finer things in life, the Sugermans are sure to catch your eye. These high-end Blublockers feature exquisite gold-plated detailing that adds a touch of glamour to your eyewear. The delicate balance of gold against the sleek, modern frame is the embodiment of luxury, making these sunglasses the perfect accessory for those who appreciate the finer details in life.

German-Made Hinges: A Mark of Quality


Quality matters. The Sugermans proudly sport German-made hinges, a testament to the precision engineering that goes into every pair. These hinges are not just functional but are a mark of enduring quality. You can count on the Sugermans to last, maintaining their premium feel and look for years to come.

Italian Lenses: Clarity and Elegance

When it comes to lenses, we didn't compromise. The Sugermans are equipped with Italian lenses, a hallmark of superior optical clarity. These lenses not only offer unmatched protection against harmful blue light but also elevate your vision to new heights. The world looks crisper, clearer, and more vibrant through the lens of the Sugermans.

Lake Michigan Blue: A New Shade to Captivate

And now, the moment you've been waiting for – the Sugermans have embraced a new shade, the Lake Michigan Blue versions. This exquisite blue hue adds a touch of mystery and charm to an already illustrious collection. Whether you're strolling along the shoreline or attending an elegant soirée, these sunglasses will capture attention and set you apart.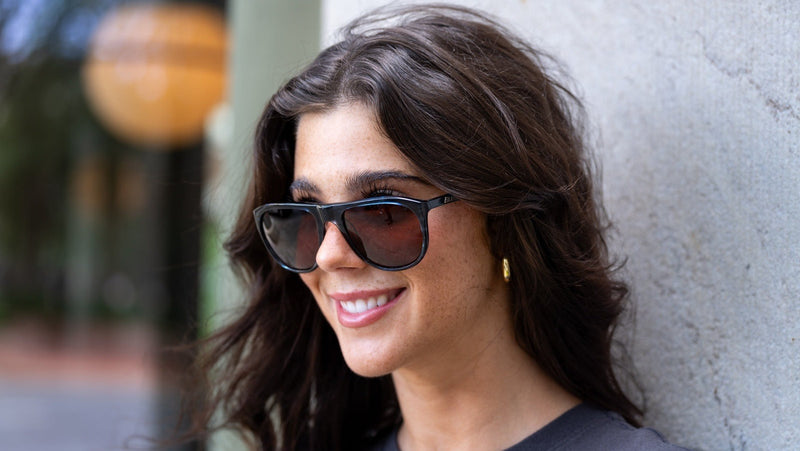 A Commitment to Excellence

At Blublockers, we are unwavering in our commitment to excellence. The Sugermans represent the culmination of our dedication to the highest standards of craftsmanship, style, and eye protection. We understand that our customers demand not just sunglasses, but an experience, and we've delivered it with the Sugermans.

So, if you're looking to elevate your style, protect your eyes, and indulge in the epitome of luxury, the Sugermans are the answer. Your world will become a canvas of elegance and clarity, and your eyes will thank you for the protection they deserve.

Experience the Sugermans today and step into a world where sophistication meets vision, where luxury meets protection. It's not just eyewear; it's a lifestyle statement.